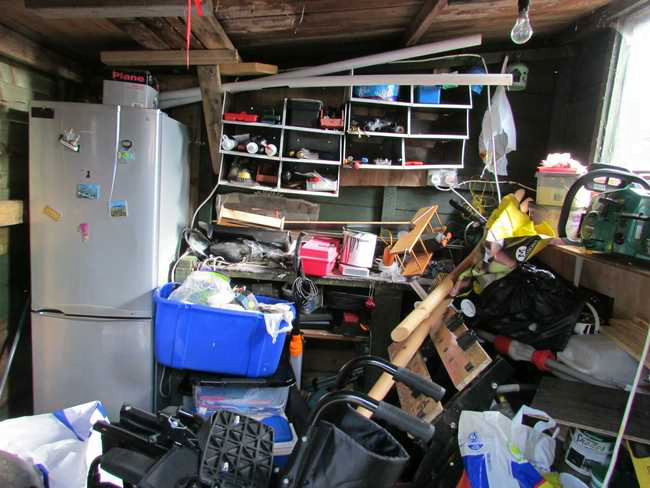 Take a look around your home; what do you notice?
A recent survey found that one in seven households has an entire room they can't use because it's filled with stuff. Stuff that they don't use.
For many of us, that room is the garage. The U.S. Department of Energy found that 25% of American's with two-car garages don't have room to park their cars in them. If this sounds like you, it may be time for a garage cleanout.
We're in the midst of a clutter epidemic. It may sound innocent enough, but this epidemic hurts productivity, budgets, time, and health. Read on, and we'll share seven tips for a successful garage cleanout.
1. Make a Plan
Before you even get started with your garage cleanout – or an attic, basement, or spare room cleanout – you should make a plan. Consider the space you'll be working with and what your end vision should look like.
Take note of the dimensions of your garage, including the location of doors, windows, any outlets, and any oversized items you know will be coming back in, like your car. Use this data to draw a simple sketch or create an actual blueprint. Whatever works for you, get your ideas on paper somewhere.
Think about the items you keep in the garage in terms of usage and theme. Things that you use frequently should be easily accessible, and like items should be grouped.
2. Organize a Garage Cleanout Party
Once you have a general idea of the space you're working with, and where you want things to end up, you can dive in. It's likely to be a big job, so reach out to friends, neighbors, or family members for help. You could offer a garage cleanout trade, help with yours for help with theirs.
Obviously, you'll want to provide some level of refreshments. Coffee and donuts in the morning, pizza at lunch, and maybe grill out at the end of the day. The garage cleanout you've been putting off for ages could be just the thing for a Covid friendly, small gathering.
Make sure you separate things into some basic categories: things to keep, items to donate, items to sell, and things to toss. For the 'donate and toss' categories, a junk removal servicecan save you a lot of time.
3. Find New Ways to Utilize Space
Think three-dimensionally when you're plotting your new garage space. Use the walls and the ceilings for innovative mounting solutions for large hand tools, bikes, sporting equipment, and more.
Think vertical, use pegboards to mount tools and other items. Create a whole new level of storage by installing drop shelving from the ceiling or mount your bikes, kayaks, etc., from there. Think open shelves rather than closed cabinets.
Give your new space something special! Throwdown a coat of brightly colored paint on the floor or an accent wall to liven things up a bit. There is so much that can be done once your garage is a clean slate; there are 35 great ideas here you can check out.
4. Label Everything
When you are re-loading things back in, make sure you are grouping like things together in storage solutions that make sense. And make sure you are labeling those containers to make finding things a breeze.
Even the step we mentioned about keeping like things grouped together will help with this. But actually, labeling your items will take it to the next level.
And while it's true that you don't have to label things now, you really should. Otherwise, you're setting yourself up for a return to a cluttered garage in no time.
5. Liquidate
Many people are sitting on thousands of dollars worth of clutter at any given time. Once you've emptied and sorted things survey your bounty.
That bread maker you bought at the beginning of lockdown and never used? Sell it!
Places like the Facebook marketplace, OfferUP, and even Craigslist, are all great options to liquidate items you no longer need or use. Your trash could be someone else's treasure.
Pro-tip, items with good photos sell better than items with bad or no images. Find good light and snap a few different angles of your item. Be as descriptive as you can in the sale blurb and start your price higher than you want; that gives you room to haggle.
6. Consider a Shed
There are some things that the U.S. Fire Administration suggests would be better off stored away from your house. Such as oil, gasoline, paints, propane, and varnishes. If at all possible, you should consider a small shed that's detached from the house for these things.
You could also store seasonal or less frequently used items in a storage shed as a bonus. The more you can keep things together in a functional manner, the more likely you are to use them.
7. Call in the Pros
Even with more time on your hands, working on a garage cleanout may not be how you want to spend it. And that's OK. Lucky for you, there are people who handle this type of thing regularly.
At Lee Junk Removal we are licensed, insured, and affordable. We handle everything from garage cleanouts to entire estate cleanouts and everything in between.
If your items are in good shape, we'll donate them for you. We partner with local charities to give your junk a second chance. Contact us for a free quote today.
Ready For the Garage of Your Dreams?
We understand. A garage cleanout can seem daunting, but it doesn't have to be that way. These tips can help you get started and maybe even make you a little extra cash for your efforts.
You also don't have to go it alone. Whether you are dealing with a few months or a lifetime's worth of stuff, we're here to help. Contact us with any questions you might have or to get started on your project today.
Our professionals are standing by, ready to help take you from cluttered to functional.